SLG's House Band, Factor 11, Takes to the Airwaves and ITunes:
For those who like to mix law and music, SLG's house band, Factor 11, has released a new CD: New Dawn New Day. The CD features the soon to be famous song: 

Good Looking People Drink Wine, Bad Looking People Drink Beer. The song is funny, and besides that, it is true. It is being played on Internet Radio on Jango radio: http://www.jango.com/. Sign up is free and is easy. The CD and individual songs are available on ITunes at https://itunes.apple.com/us/album/new-dawn-new-day/id703237018 and CD Baby at: http://cdbaby.com/cd/factor1.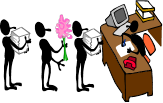 Please consider supporting the band and entertaining yourself at the same time. Anyone who sends SLG a proof of purchase of a song or CD, and their mailing address will receive a complementary CD from SLG. Send to: [email protected]. Unfortunately, CLE credit will not be given for listening to the CD.
Thanks for your indulgence.
Spencer Scheer